Loyal to its tradition in education and training on an interdisciplinary level between physics, chemistry and biology, the ESPCI proposes a brand new international doctoral programme – UPtoPARIS. PhD fellows will have the opportunity to explore a unique environment comprising an elite engineer school, 9 joint research units and a new incubator on campus hosting 12 technology-driven start-ups – a recipe for a cutting-edge doctoral training in the heart of Paris. Out of the PhD subjects published on the website, only the best candidates matching with the PhD projects will be selected for each call.
UPtoPARIS is designed to propose a combination of research activities and innovative and competitive supervising, mentoring and career planning. With PhD projects strongly connected to the transferability of basic science, the programme aims to shape new profiles of forward-looking young researchers by giving them knowledge and skills directly linked to the needs of the European and international industry and market. The intersectoral exposure, provided by secondments, workshops and specific guidance, will help young researchers to gain a precious experience in terms of technological development and application through consciously selected topics of European interest, inspired by the KETs, identified by the EU.
The 30 incoming excellent doctoral candidates will also reinforce the internationally renowned profile of the ESPCI and the region, by increasing the number of foreign PhD students and, consequently, the quality and the diversity of the scientific exchange.
The UPtoPARIS programme of the ESPCI Paris will offer a unique environment to highly selected PhD students expected to produce top-level scientific research ready to be translated into technical and societal innovations. This will be achieved by promoting interdisciplinary basic research, by connecting it with industry through the wide inter-sectorial network of the ESPCI Paris partners, and by stimulating the development of high-technology start-up companies. In addition to a research experience per se, we will offer students an international training and a dedicated Career development training programme. UPtoPARIS aims at educating a generation of PhDs with a modern vision of research, beyond frontiers between disciplines and between basic research and innovation, and ready to address technological and societal challenges with innovative approaches.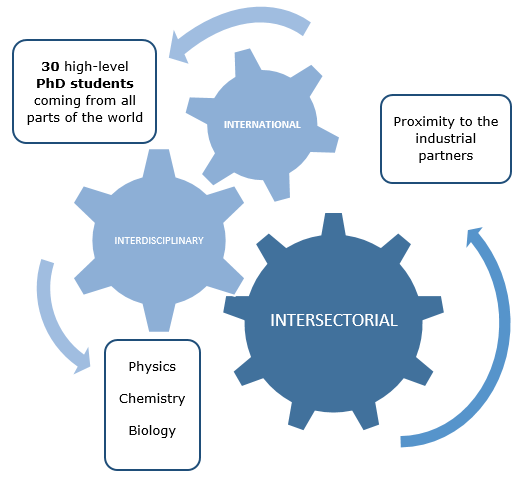 Centred on Innovation and built around interdisciplinary and inter-sectoral principles, UPtoPARIS is designed as a pilot programme to attract top-level young researchers and provide them with a high quality doctoral supervision and training. Improving the standard of doctoral education at the ESPCI, the project aims to increase the ESPCI international visibility and create leverage for all the ESPCI doctoral programmes by spreading EU Principles for Innovative Doctoral Training.